LE PÉTALE DE ROSE
ORGANIC ROSÉ WINE 2022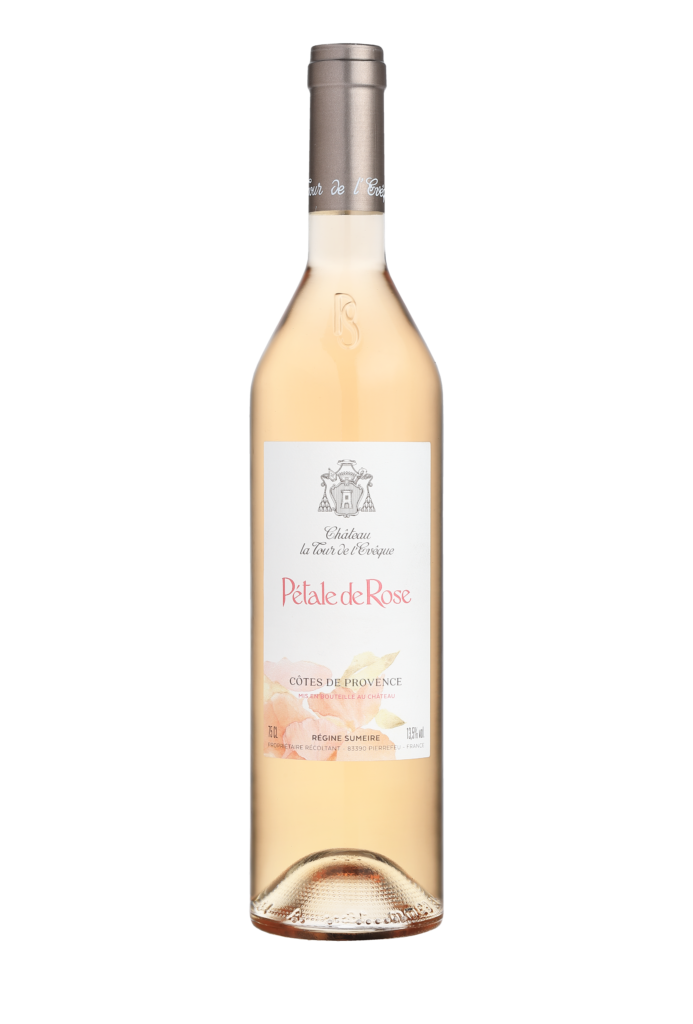 TERROIR
AOP Côtes de Provence.
Shaley soils derived from siluraian layers and Permian red sandstone.
GRAPE VARIETIES
39% Cinsault, 37% Grenache, 8% Syrah, 6.5% Mourvèdre, 5% Rolle, 2.5% Sémillon, 1% Cabernet Sauvignon et 1% Ugni-Blanc.
VINTAGE
This 2022 vintage has been marked by an premature and prolonged drought: a winter without rain with rather high temperatures in February, followed by a very water-deficient spring with very high temperatures as early as May, then a dry and hot summer with a hail storm on August 17 in Hyères, fortunately without any significant crop loss.
The budbreak started on March 25th. Flowering was observed from May 16 and was particularly rapid. The first berries appeared on July 12. The harvest began on August 19 and l asted until September 7.
GROWING
The vineyards are worked by hand, using natural animal fertilizers. Buds are trimmed and a green harvest is practice to purposefully limit yields. A part of the vineyard is plowed with horses. The area between the rows of vines is grassed over with cereals.
WINEMAKING
All grapes are harvested manually, sorted, not de-stemmed and directly loaded into an hydraulic Champenois Coquard press without crushing. The grapes are lightly pressed so as to obtain optimum delicacy and fragrance from the very heart of the grapes. Wines ferment in temperature-controlled stainless steel, gravityfed cuves. The Pétale de Rose is exclusively made of 1st quality juices. The wine undergoes malolactic fermentation and is bottled at the Château la Tour de l'Evêque.
Pale salmon pink. Nose is airy and seducing with floral notes of jasmine and fresh vine peach, combined with some citrus hints such as candied pomelo on a creamy, strawberry background. Zesty with a spicy twist. The palate is large, weighty, and smooth, with balanced acidity. It shows satiny pulp with peppery spiciness. The structure holds on zesty phenolics and balances this textural palate, the lengthy finish comes with lovely concentration. Marinated tuna with orange, fennel, and Sichuan pepper.
— Julia & Bruno Scavo
REWARDS
AROMAS OF SMOKED STRAWBERRY, SLIGHT LESS AND TOAST;
PALATE NICELY DIFFERENT, COMPLEX WITH A LIVELY MINERALITY,
LESS CHARACTER, ALMOST OAKY, AND A LOVELY CURED MEAT NOTE.
Decanter
AROMAS OF FLOWERS, ORANGE BLOSSOM AND LIGHT PEACHES.
SOME WHITE PEPPER. FULL-BODIED, LAYERED AND DELICIOUS.
LOVELY TENSION AND TEXTURE.
James Suckling
PALE SALMON. ROUND AND LIGHTLY SMOKY
WITH VERY POSITIVE PALATE AND LENGTH.
Jancis Robinson
BARBEYROLLES AND LA TOUR DE L'EVÊQUE,
ARCHETYPE OF THE FINE AND PRECISE ROSÉ WITH POTENTIAL FOR AGING.
Bettane + Desseauve
A VERY GOOD QUALITY ROSÉ WINE, TWO ESTATES WITH HIGH QUALITY STANDARDS.
Robert Parker - Wine Advocate