LE PÉTALE DE ROSE
ORGANIC ROSÉ WINE 2020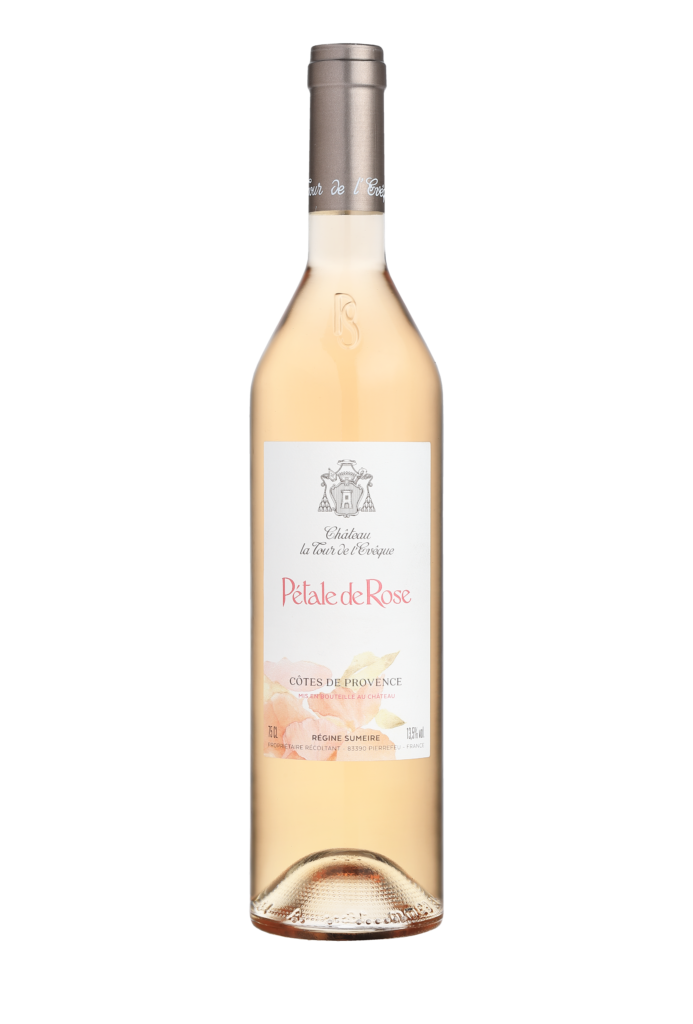 TERROIR
AOP Côtes de Provence.
In the hilly area of the Maurettes the land consists of shaley soils derived from siluraian sages phyllites near Hyères, and Permian red sandstone.
GRAPE VARIETIES
43% Cinsault, 25% Grenache, 14% Syrah, 10% Mourvèdre, 5% Sémillon, 1% Rolle, 1% Cabernet Sauvignon et 1% Ugni-Blanc.
Average age of the vines : 25 years old.
VINTAGE
A rainy fall allowed the water reserves from the soil to be replenished. The winter was soft and dry, leading to an advance of the vegetative cycle with early budbreak starting on March 11th. The vines located in Pierrefeu suffered from a historic frost on March 26th. We had to wait until May to record milder temperatures. Flowering began on May 13th on the Grenaches in Hyères and it went normally, with no noticeable coulure. The hot and dry weather of July, combined with the good water reserves, contributed to the good development of the vines during summer. The harvest started on August 17th and finished on September 8th.
GROWING
The vineyards are worked by hand, using natural animal fertilizers. Buds are trimmed and a green harvest is practice to purposefully limit yields. A part of the vineyard is plowed with horses. The area between the rows of vines is grassed over with cereals.
WINEMAKING
All grapes are harvested manually, sorted, not de-stemmed and directly loaded into an hydraulic Champenois Coquard press without crushing. The grapes are lightly pressed so as to obtain optimum delicacy and fragrance from the very heart of the grapes. Wines ferment in temperature-controlled stainless steel, gravityfed cuves. The Pétale de Rose is exclusively made of 1st quality juices. The wine undergoes malolactic fermentation. For the 2016 vintage we used 50% native yeasts for the fermentation and we aim to do 100% for the next vintage. The wine is bottled at the Château la Tour de l'Evêque.
Colour is pale rose petal, with gentle silvery hues. Nose is delicate, offering ripe strawberry and nectarine aromas, flowery notes such as peony, some orange blossom, intertwined with tangerine peel, some aniseed and liquorice coming along with a subtle smoky, but airy sensation. Palate is dry and mellow, caressing with satin-like texture, medium plus acidity and generous zests giving spiciness. Flavours are intense, pungent with lots of liquorice and pink pepper melting into the sweet fruitiness of strawberry and peach. Finish is long, with noble balsamic bitterness, offering a slightly tannic touch, and thus a certain structure. Great with food, can keep well for the next 1-2 years.
— Julia & Bruno Scavo
REWARDS
AROMAS OF SMOKED STRAWBERRY, SLIGHT LESS AND TOAST;
PALATE NICELY DIFFERENT, COMPLEX WITH A LIVELY MINERALITY,
LESS CHARACTER, ALMOST OAKY, AND A LOVELY CURED MEAT NOTE.
Decanter
AROMAS OF FLOWERS, ORANGE BLOSSOM AND LIGHT PEACHES.
SOME WHITE PEPPER. FULL-BODIED, LAYERED AND DELICIOUS.
LOVELY TENSION AND TEXTURE.
James Suckling
PALE SALMON. ROUND AND LIGHTLY SMOKY
WITH VERY POSITIVE PALATE AND LENGTH.
Jancis Robinson
BARBEYROLLES AND LA TOUR DE L'EVÊQUE,
ARCHETYPE OF THE FINE AND PRECISE ROSÉ WITH POTENTIAL FOR AGING.
Bettane + Desseauve
A VERY GOOD QUALITY ROSÉ WINE, TWO ESTATES WITH HIGH QUALITY STANDARDS.
Robert Parker - Wine Advocate